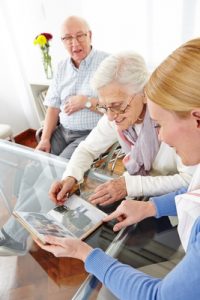 D.H. Lawrence once said of he enjoyed making marmalade, "It's amazing how it cheers one up to shred oranges and scrub the floor." You might not be making your own jam, but you might be surprised how much a good spring cleaning can make your home feel brighter and cheerier. There's no reason to live in disarray if you can help it, and some might have accumulated during the winter when it feels like everything moves a little bit slower and settles in a little bit closer. Here are our favorite ways to jump start spring cleaning and make your life feel as fresh as D.H. Lawrence's oranges (no scrubbing required!):
Declutter— it'll make it easier to keep things tidy, and it'll make it more pleasant to spend time in your home. It's easy to accumulate too much stuff if you forget to toss old magazines and newspapers, let books pile up, or weren't completely sure how much you should downsize when moving in to your apartment. Start small, by putting interesting newspaper or magazine clippings, photos, and other memorabilia away in scrapbooks, your journal, or a file folder to organize later. Then you'll be able to get rid of stacks of old periodicals. Take used books you're unlikely to reread or revisit to the used bookstore like 2nd & Charles. If you get on a roll, you can always move on to bigger organizational projects. Stock up on the essentials. Now that you've cleared out the extras, you have space to store the little things you don't want to be without, like spare batteries, lightbulbs, toilet paper, hair ties, etc. Spring is a great time to replenish the household items you might have used up over the winter and don't want to be caught needing.
Make sure your legal and medical records are up to date. Go ahead and schedule your doctor and dental appointments for the year. Make a list of your prescription medications, dosages, and dates in case your family need them in an emergency. Now that tax day is past, you can file and organize your financial paperwork and should know if you'll need to make any adjustments to your retirement funds, investment portfolios, etc. Make sure your loved ones have the information they need about safe deposit boxes, storage units, and other repositories, just in case. It never hurts to be prepared, and it'll give you peace of mind, too.
Be mindful of your medications. Most prescription and over the counter medicines have expiration dates. Put all the medications that are past their date in a bag and take them to your nearest drug disposal point. Call the Jefferson County Sherrif's department at 205-325-5857 to find out where a drop off point is, or when the next Drug Take Back Day will be. It's important not to throw away or flush expired medications in case they are misused or leech into the environment.
Invest in organizational tools. Maybe that means a new closet shelving system, or a better container for your craft supplies. Perhaps you need a new address book or planner. As you go through your spring cleaning, think about what would make it easier to keep everything tidy, simplified, and arranged. The less time you spend looking for things, trying to remember where something is, or tidying up a lot of clutter the more time you'll have for all the things that make retirement at a senior community like Regency so fun.