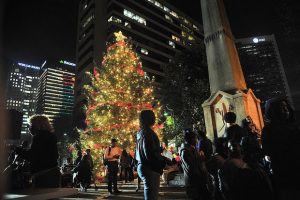 Birmingham Seniors are excited about the full schedule of holiday activities planned at Regency Retirement Community and among their individual families. With so much happening, residents will be traveling to see cousins and welcoming family here as well.
The best gift we give this time of year is our time and the traditions we pass down to future generations. Our rituals become cherished holiday practices as they stir memories of fun times spent cooking family recipes, playing games, watching movies, and singing Christmas carols.
Personalized items can make great gifts for family and become fond keepsakes with time. Seniors who are downsizing can often find that Christmas makes a great time to pass along furniture or other valuables that they no longer want or have room for. Experiences also make for great presents such as tickets to the McWane Science Center or the Birmingham Zoo.
Seniors may want to tread carefully when buying for grandchildren and consult the parents first so gifts are appropriate, safe and steal no one's thunder.
Cherishing family is what Christmas is all about. Our residents are a family as well. Beyond the activities they will enjoy with loved ones, our Regency community looks to be very busy over the next several weeks.
Officially launching the holiday season locally, the City of Birmingham Annual Christmas Tree Lighting is December 2nd. Our holiday Open House is Wednesday, December 3rd from 5-7 pm. We will have wonderful food prepared by Chef Austin and his staff, music, pictures with Santa for the kids of all ages, and the horse drawn carriage rides are back by popular demand. Piano music for the evening will be provided by Dana Lawrence. Visitors will also be able to tour the community. Our festival of trees will feature beautifully decorated trees in a variety of styles. Trees will be provided by local businesses and residents will be voting on the best trees in different categories.
Regency residents will enjoy the Vestavia Hills Baptist Church Nativity on December 5th and the Homewood Christmas Parade on December 9th.
On December 18th at 6 pm, residents can enjoy the Christmas light displays throughout the city from the comfort of our buses. Derrick King will be the chauffeur for the evening. On December 24th, the Alexanders will be performing and leading as we sing carols and celebrate Christmas Eve during our candlelight service.
It looks to be a fantastic month at Regency and generally for Birmingham seniors enjoying the holidays. Everyone at Regency Retirement Village of Birmingham wishes you and yours a Merry Christmas!