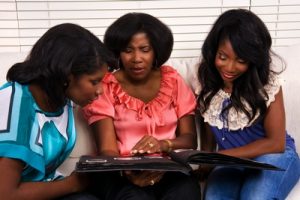 Our last article was about revisiting the sites of Birmingham, Alabama in the 1960s and 70s. It was an exciting and important time in history, and especially in the lives of those who personally experienced those historic moments. If you enjoyed the old photographs we shared, you might want to take another look at your own pictures, letters, audio recordings, and more. Sometimes there's nothing sweeter than reliving your salad days, remembering the birth of children, and the adventures you went on.
Photos, birth and wedding announcements, newspaper clippings, home movies, yearbooks, programs, and old letters — all of the keepsakes we accumulate tell our life stories. Now's a great time to reorganize your mementos. You could create a scrapbook, or if you already have photo albums made, add your postcards, ticket stubs, and other memorabilia so everything together is in one place you can review whenever you want.
Friends and family might enjoy helping you sift through your memorabilia and get it organized. They might even be interested in having their own copy of certain photos and keepsakes for their own scrapbooks. You could work on creating a family history album together than spans several generations. You could even set up a video camera to record your stories while you tell them to a friend or loved one is an easy, natural way to capture your reminiscences.